I'm sorry if my absence has worried anyone.  We are fine.  Sadie is amazing!  However, she is officially walking and is constantly on the move.  That means I'm always keeping watch on a small person who can get into anything and likes to put everything in her mouth.  As soon as I finally get her to sleep each night all I can think about is going to sleep myself.  Hence....the lack of posts.  Here's a bunch of pictures from the last few days to get you through until I finish my very, very long update. 
First plane ride - Business Class, of course!
Playing in the room
First time in a high chair (they are very hard to come by in Vietnam!)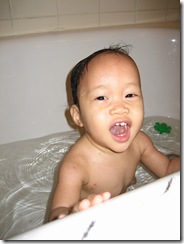 First bath in the big tub - LOVED IT!
Posing with grandma and grandpa on the hotel grounds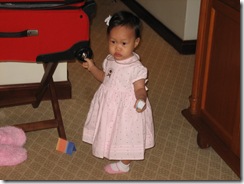 Dressed for my embassy interview
(posie thanks to Autie E and socks thanks to Aunti Y)
 Cooling off in the room after the Temple of Literature
and the Fine Arts Museum